Upcoming News Items
Hosting the Veterans' Breakfast Club in Brompton Barracks
With the support and authority of CO 1 RSME Regt, MKC Training will be hosting a Veterans' Breakfast Club in Gordons Mess at 0930-1230hrs on Sat 29 Apr.
All are welcome to join us and meet up with veterans from the local community.
For more information, please contact Peter Conn.
Ongoing Activities
The Armed Forces Act 2021
This Act came into force in November 2022 to reinforces the Armed Forces Covenant. It build on the Armed Forces Act 2006 with a requirement for Due Regard which is a reinforcement of the Covenant but with some differences.
For more information on what members this covers, visit The Armed Forces Act.
---
Sussex Armed Forces Network Veteran Friendly GP Surgery
The Armed Forces Act 2021 names Veteran Friendly GP Practices as one of the relevant bodies that must show 'Due Regard' in line with the Covenant to the Armed Forces Community.
For more information on what an accredited GP practice means, visit The Sussex Armed Forces Network Veteran Friendly GP Practices.
Background
MKC Training supports our armed forces community in a number of ways, whether it is as an employer to reservists, veterans, cadet volunteers and/or partners or as a provider ensuring commissioned services understand the needs of this community.

MKC Training recognise the value, ethos and talents of veterans. At present we employ 40 members of staff who have prior military service, each of whom plays an integral part in transferring their skillset to our company providing the standards expected of an organisation that prides itself on the highest performance levels.

In July 2021, we reaccredited for the silver award as part of the Ministry of Defence's Employer Recognition Scheme
---
Visit the Armed Forces Covenant website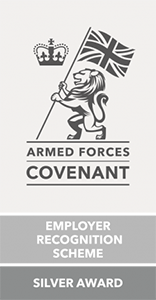 Forces Covenant Silver Award 2021
MKC Training were awarded the Employer Recognition Scheme Silver Award in 2021.

This is a national recognition of our coninued commitment to the Armed Forces.

The Armed Forces Covenant represents a promise by the nation that those who serve or have served, and their families, are treated fairly. All 407 local authorities in mainland Great Britain and 4 Northern Ireland councils have pledged to uphold the Armed Forces Covenant. To date over 4,000 organisations have signed the covenant, including businesses and charities. Contact us to learn more
"Sue was an excellent trainer and a nice person to be trained by too. Clearly has a thorough and comprehensive knowledge of not only the course but the whole discipline."

"The use of whiteboards, real time example, breakout room and attempting the questions after every topic was really helpful. The enthusiastic tutor, made the course better."

"The ideas and techniques learned in the course has changed my vision towards project management. It taught me various methods which I can apply in my career. I managed to learn new aspects of management cycle which I was unaware of. The course was very useful to me."

"I thoroughly enjoyed the course and got a good deal of useful information from it. I have carried out projects throughout my career, and a few years ago took the APM Project Management Qualification (PMQ), but carried out projects using my own methods. PRINCE2 is great in that it sets out a methodology for carrying out project management, and is the most widely recognised in the UK. Adding agile was the icing on the cake."

"Dhaliwal Narinder our trainer was excellent, adding insights from her vast experience to enhance our learning. We have tried Agile and Project Management separately, now i have the opportunity to try both again in my Faculty. Receiving this course online whilst locked down was perfect."

"The course was interesting and interactive, though a lot of information needed to be crammed in and consumed. Having done an Agile course a few years ago, this course helped to reinforce what was previously learned and put a project management theme to it. The instructor was very knowledgeable and explained the theory very well. The other participants were engaging and helped make the course interesting through the sharing of question and answer sessions to the relationship of past experiences."

Experienced and well qualified training staff provide excellent support and are committed to improving trainees' experience.

"The pass rate is delivering more competent well-rounded, 'turn their hand to anything' engineers. All of the main courses delivered by MKC achieve notably higher success rates than the corresponding courses delivered by either Further Education (FE) or private training providers'."

MKC is seen to be strongly in line with acknowledged approaches to good practice in vocational education and training.

The Open & Honest partnering approach will save MoD an average of 25% on previous training costs.

MKC significantly exceeds performance and has delivered a further £28M savings since the start of operations. Training losses have moved from 12% to 5%, trimming times down by 20%. Innovating and driving down costs.

"It was clear that our tutors were not only really skilled themselves, but they knew how to pass that on to others."

"Learners have a deeper understanding of their trades"